11 Amazing Beauty Hacks To Look Stunning Everyday
Some health issues and beauty problems can be solved easily using simple beauty hacks. If you're a Female, here are 11 AMAZING BEAUTY HACKS you must know to improve your fashion sense.
HACK #1 TO GET PINK LIPS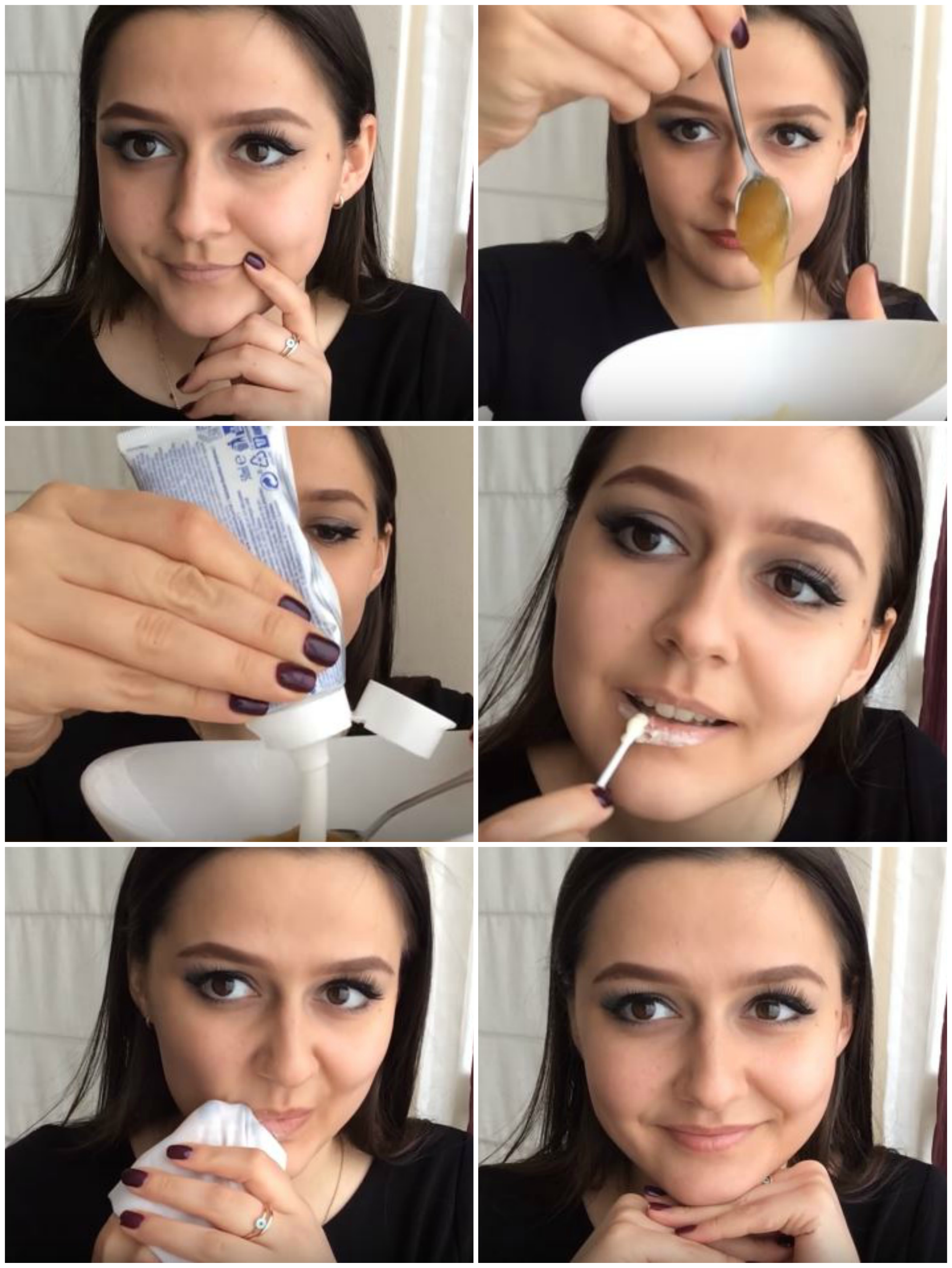 Are you tired of having that pale coloured lips of yours? Having deep pink lips is very easy to get. All you need for this beauty hack is Honey, Toothpaste and Vaseline (petroleum jelly).
How to prepare: Get a small bowl and pour 1 tablespoon of honey. Then add little amount of toothpaste. Just make sure that the quantity of toothpaste doesn't go beyond the size of your finger tips. Mix the two ingredients properly to form a gel and it's ready for use.
How to use: Use your finger and apply the gel on your lips. You should massage your lips gently so that the gel sinks into your lips properly. Then wait for 5 minutes before you clean off with a cotton pad. After that, apply the petroleum jelly on your lips. The petroleum jelly would help improve the pink colour of your lips and make them shine.
Storage: You do not need to prepare much quantity of this hack. Just prepare each time you want to use it. Use this hack every morning for 7 days and you'll be amazed with the results.
HACK #2 TO GET SUPER SILKY AND SHINY HAIR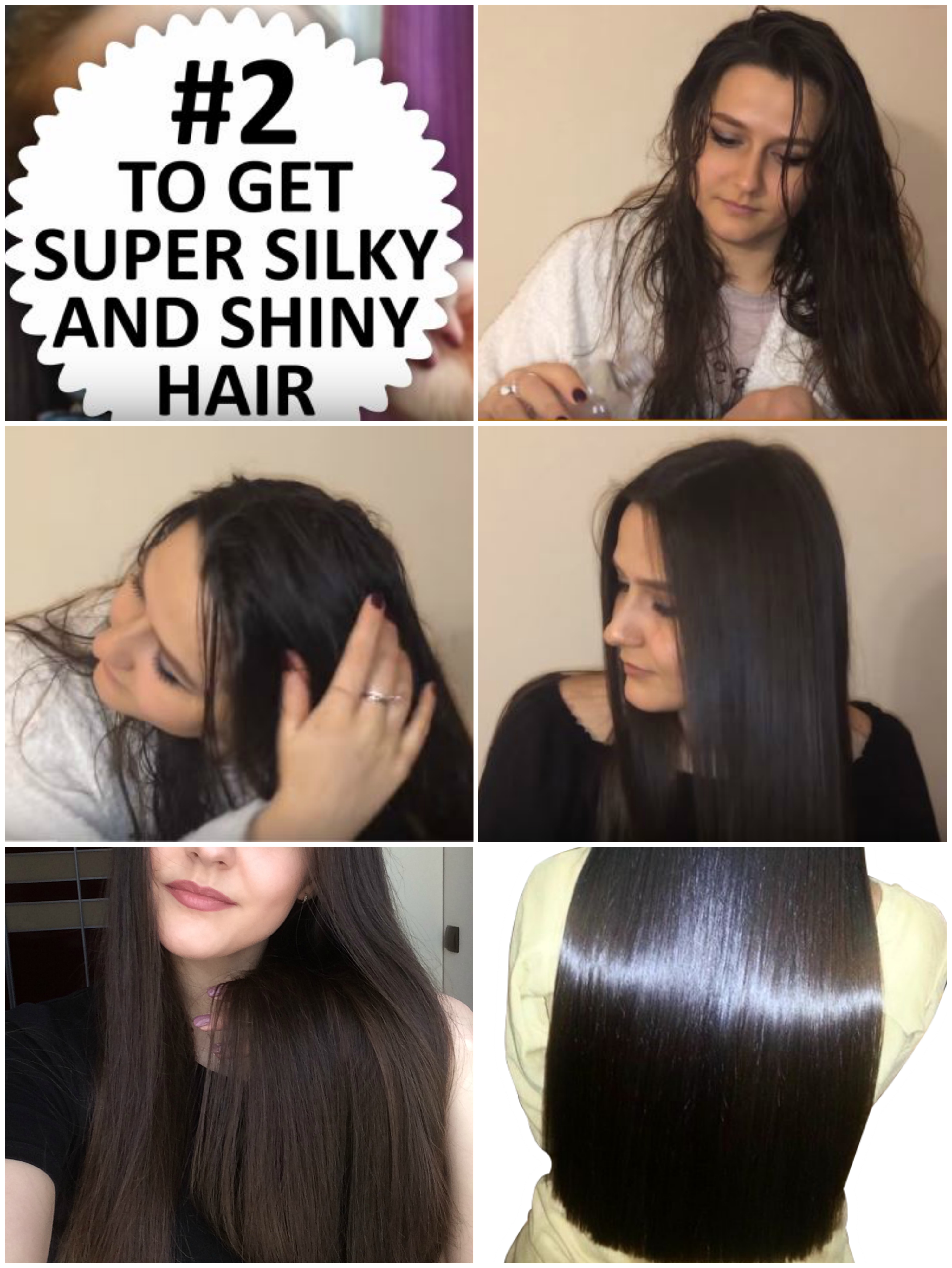 Many hair care products claim to give you that super silky hair you desire. But the truth is no hair product works as effective as this beauty hack to make your hair extra silky and shiny. The only ingredient for this hack is Baby oil. I know it sounds surprising.
How to prepare: I do not know the steps to prepare Baby oil at home. But you can get high quality baby oil from your local super market.
How to use: To get your hair super silky, first wash your hair with a mild shampoo. Do not pat your hair dry. Just apply a large quantity of baby oil when your hair is still wet and comb it. Your hair will appear like you've just used a multi million dollar hair treatment. Use this hack anytime you want your hair to become extra shiny.
Storage: Check the expiry date of the baby oil at the top of the container to know how long you should use it.
HACK #3 TO GET RID OF ACNE AND PIMPLES OVERNIGHT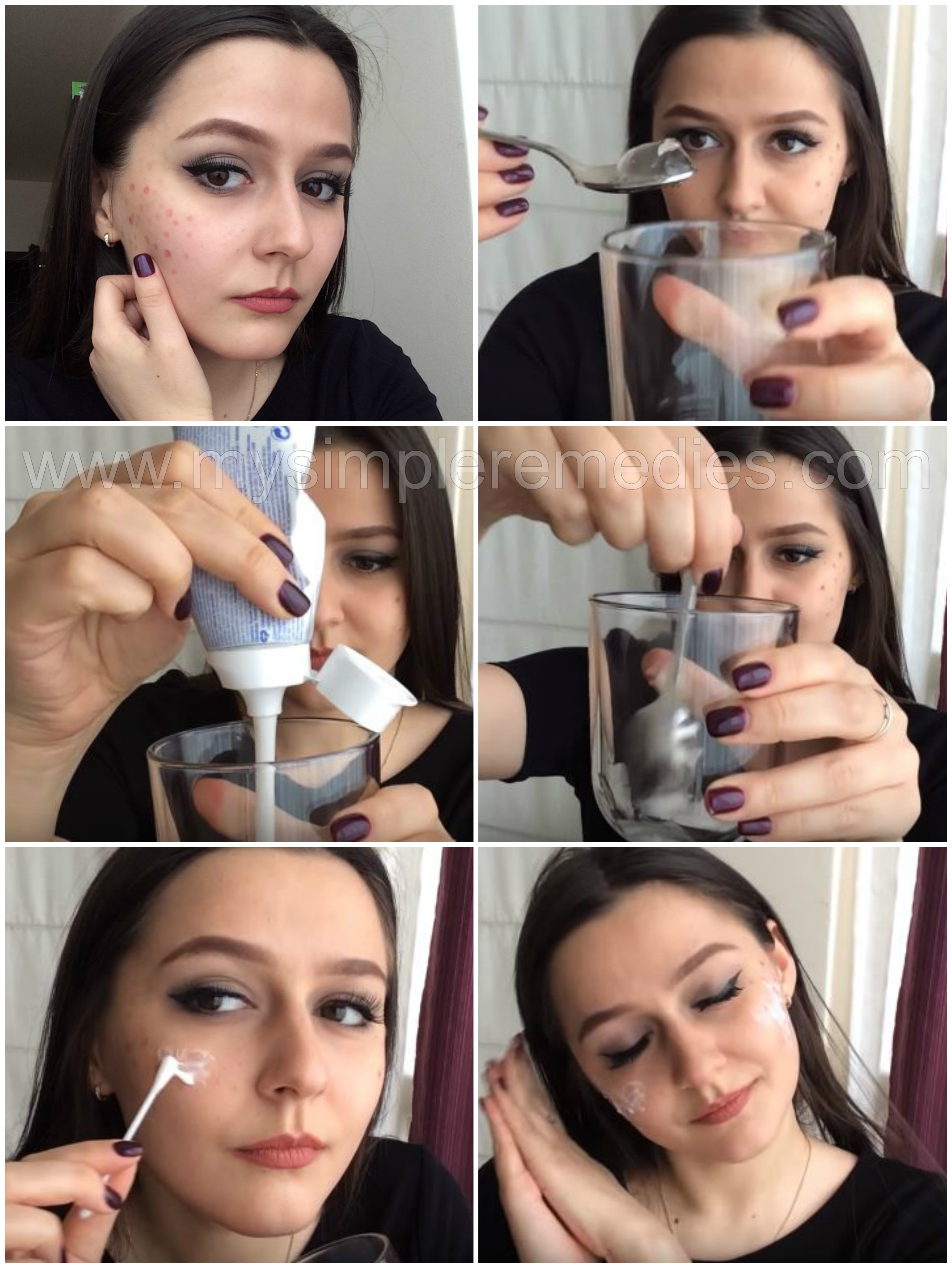 Acne is a very common disease. It affects almost every age grades even though it is more prominent in teenagers. Pimples and acne can dampen your self esteem. Not to worry any more, you can easily get rid of stubborn pimples overnight with this simple beauty hack. All you need for this hack is Aloe Vera Gel and Toothpaste.
How to prepare: Add 1 tablespoon of Aloe Vera Gel and Toothpaste into a small bowl and mix properly. Make sure that the consistency is thick so that it can remain on the surface of the acne when you apply it on your face.
How to use: Before you apply this beauty hack on your face, make sure that your hands are properly washed. Then using your finger tips, take enough quantity of this hack and apply it directly to the surface of the spots on your face. Do this before you sleep at night. When you wake up the next morning, wash your face with a mild soap. You'll notice that your acne are all gone and your face is smooth again.
Storage: if you prepare a large quantity of this hack, you can store it in a sealed container and keep in a cool environment. Use this hack anytime you quickly want to get rid of pimples.
HACK #4  TO LIGHTEN YOUR DARK UNDERARMS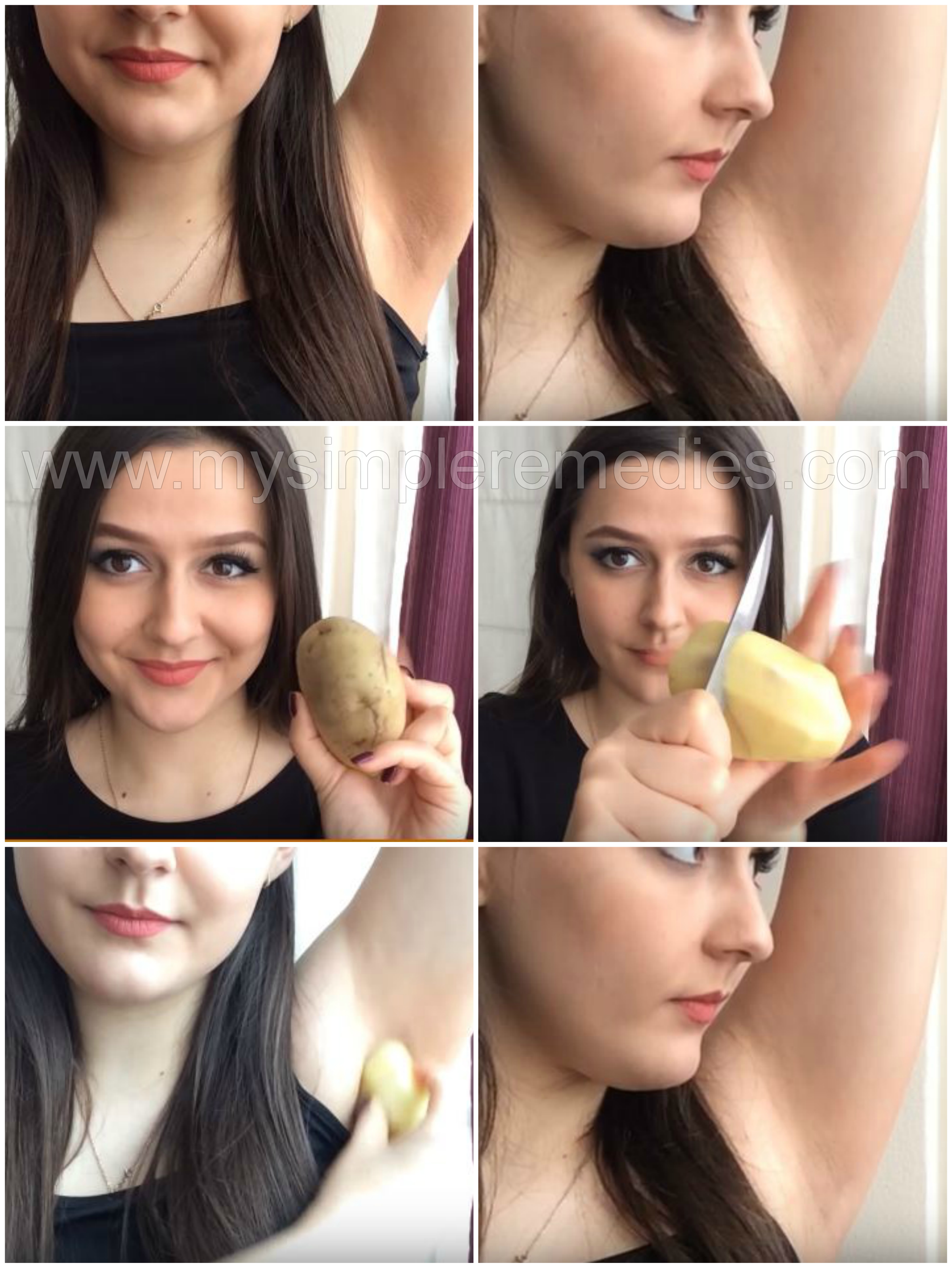 When you constantly shave the hairs in your armpit, the skin colour around those areas become dark. While it is hygienic to maintain  clean and neatly trimmed armpits, it is also good to make sure that the colour of your armpit remains light and clear. If your armpits have become dark already, use this Potato Hack to lighten them.
How to prepare: Get potatoes from your local market or you can plant and harvest fresh potatoes if you have a garden. Wash and peel off the skin from the potatoes and then slice them into round shapes.
How to use: Rub the sliced potatoes around your armpits for 2 minutes. Afterwards, place them in your armpits wait for another 5 minutes. Then wash off with a mild soap. Use this hack in the morning and at night for 3 days. Your underarms will become permanently lighten and clear.
Storage: Discard potato slices after each usage.
HACK #5  GET RID OF UNDERARMS SWEAT AND SMELL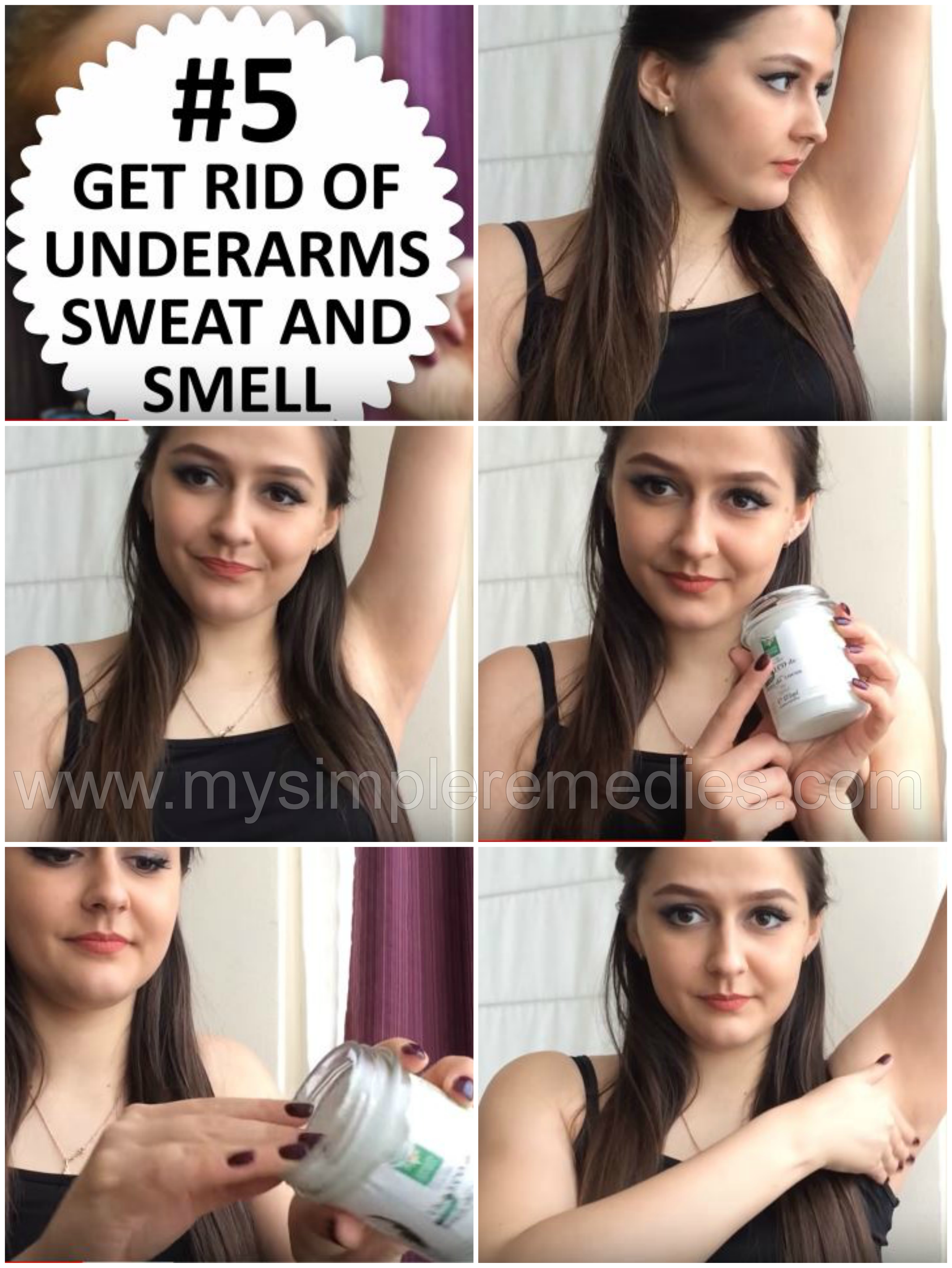 The major culprit of offensive body odour is your underarms. Your underarms smell because you sweat often and germs feed on these sweat particles releasing bad odour. Coconut oil is the major ingredient for this hack that will help you get rid of underarms sweat and smell.
How to prepare: If you cannot prepare quality coconut oil yourself, then buy it from your local supermarket.
How to use: After having your bath at night, apply coconut oil liberally around your armpits. Do a thorough massage for at least 10 minutes so that the coconut oil would penetrate your skin pores easily. Do not wash your armpits. Rather, leave the coconut oil on your skin till the next morning. Continue this routine for 7 days. Your armpit smell will be gone by then and you won't sweat profusely any more.
Storage: check the expiry date of the coconut oil to know how long you should use it.
HACK #6  GET THICKER HAIR INSTANTLY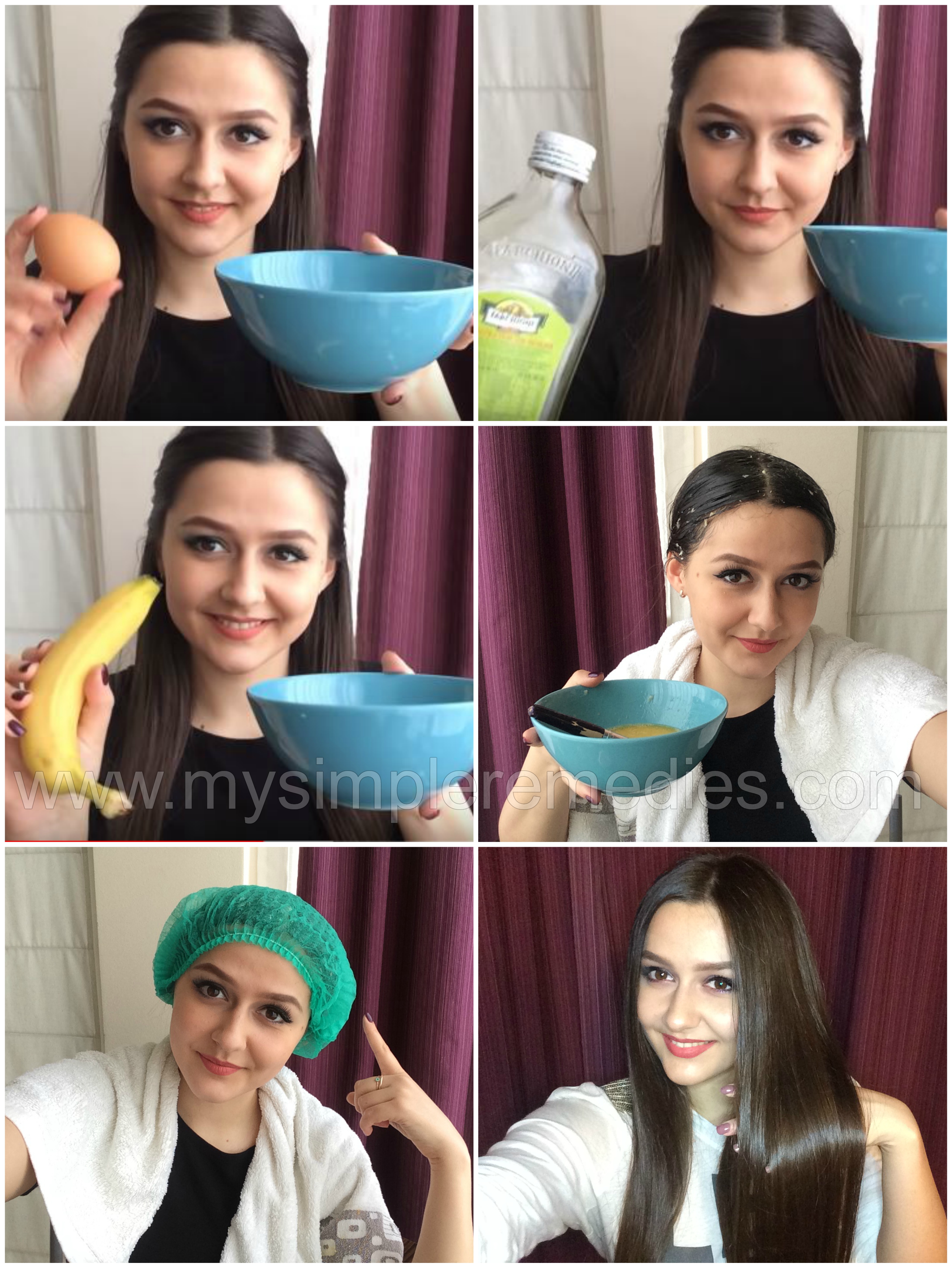 Thicker hairs appear more beautiful than the thin type of hair. It is easy to style and take care of thick hairs. If you want your hairs to become thick in no time, you'll need to use this hair hack made with Eggs , Olive oil and Mashed Bananas.
How to prepare: Get a big sized banana, slice it into small pieces and then mash it into paste. Pour the mashed banana into a bowl. After that, break an egg and pour it content into the same bowl containing the mashed banana. Then add 2 tablespoons of olive oil into the bowl and stir the mixture continuously till it becomes uniform.
How to use: Scoop a large quantity of this mixture and apply it all over your hair and deep in your scalp. Do a through massage round your scalp. After you're done with the massage, wear a shower cap and then wait for 40 minutes. You can keep yourself occupied with something so that you don't feel bored. Then wash your hair with a mild shampoo and pat to dry. Your hair will become thick immediately. Continue this routine to get a permanent thick hair in just 2 weeks.
Storage: Store this mixture in an empty hair conditioner bottle. Keep it in your bathroom and use it three times a week to get maximum benefit.
HACK #7 TO GET FULLER LIPS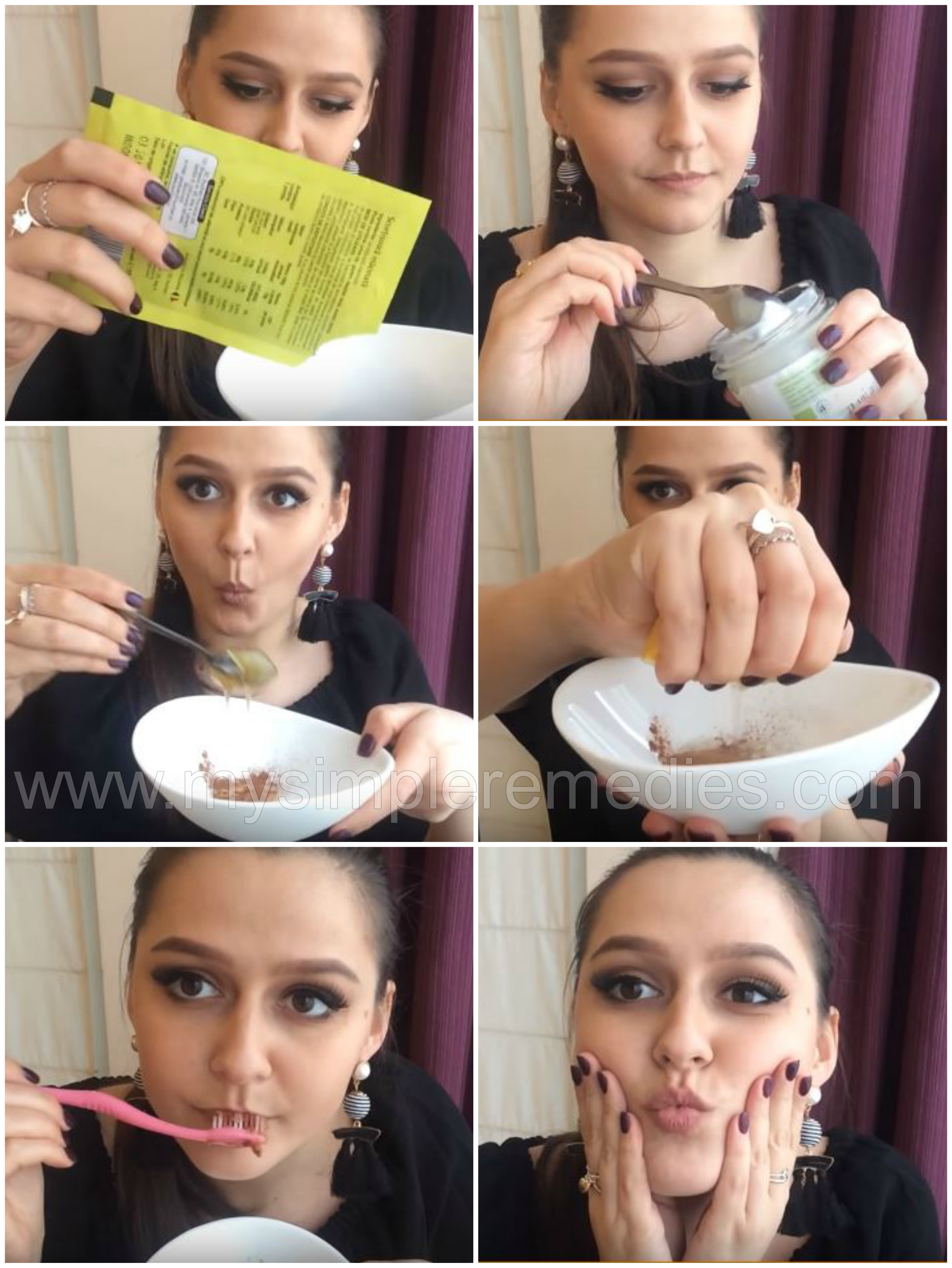 Most people like thicker and fuller lips because they appear beautiful especially when you apply lipstick on them. If you want to get fuller and bigger lips you'll need to make a hack using Cinnamon Powder, Honey, Coconut Oil and Lemon juice.
How to prepare: Get a big bowl and add 1 tablespoon of cinnamon powder, 1 tablespoon of honey, 1 tablespoon of coconut oil and few drops of lemon juice. Stir the ingredients properly for at least 3 minutes to achieve a uniform paste
How to use: Apply this mixture on your lips using a tooth brush. Then brush your lips in an upward and downward manner. Make sure that the paste gets to all parts of your lips. It won't be attractive to have a bigger upper lip while the lower lip remains small. Leave the paste on your lips for 15 minutes and then wash off with clean water. Do this consistently for 7 days and your lips would get bigger than before.
Storage: keep this hack in a small container and store in the fridge. Use it when you want to brush your teeth every morning.
HACK #8 TO GET RID OF DARK CIRCLES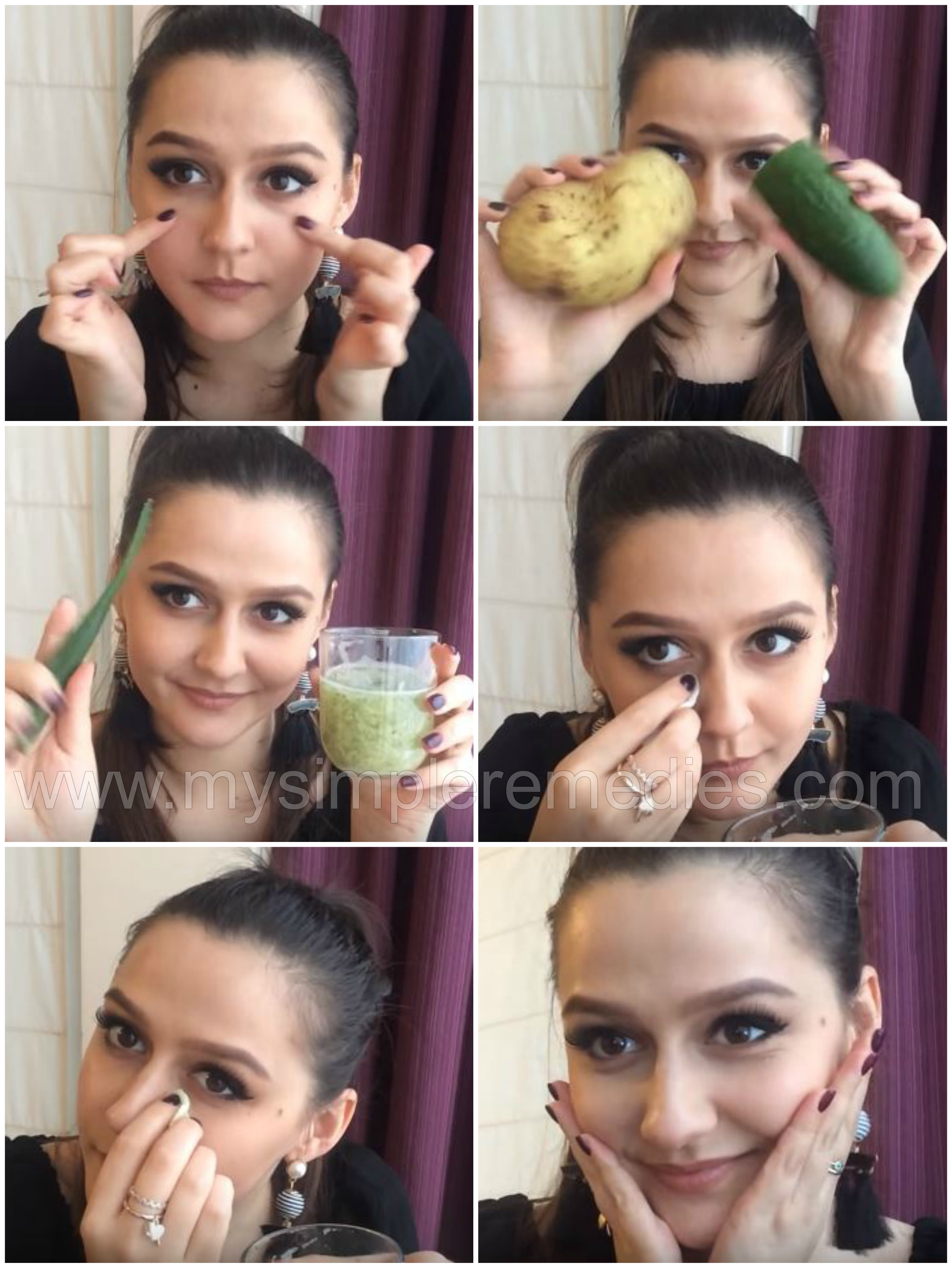 Dark circles under the eyes can result from too much stress or maybe you're working too hard. Other times, you might get dark circles if you expose yourself to sunlight excessively. If you have dark circles, do not worry anymore. To remove it, you'll need Cucumber, Potatoes juice and Aloe Vera gel to prepare this beauty hack.
How to prepare: To prepare this hack, slice potatoes and cucumber and put them in a blender. Blend them together and extract the juice using a strainer. Then pour out the liquid in a bowl. Afterwards, add 1 tablespoon of Aloe Vera gel into the bowl and stir properly.
How to use: Dip a cotton ball into the mixture and rub it around the dark circles. Make sure you  use this beauty hack only at night before bedtime. Wash off when you wake up the next morning. You'll find out that the dark  circles would be almost gone. Continue this routine for 5 days and your dark circles will be no more.
Storage: This hack should be kept in an air tight container. This is because, air can reduce its efficacy.
HACK #9 HOW TO GET RID OF HAIR LICE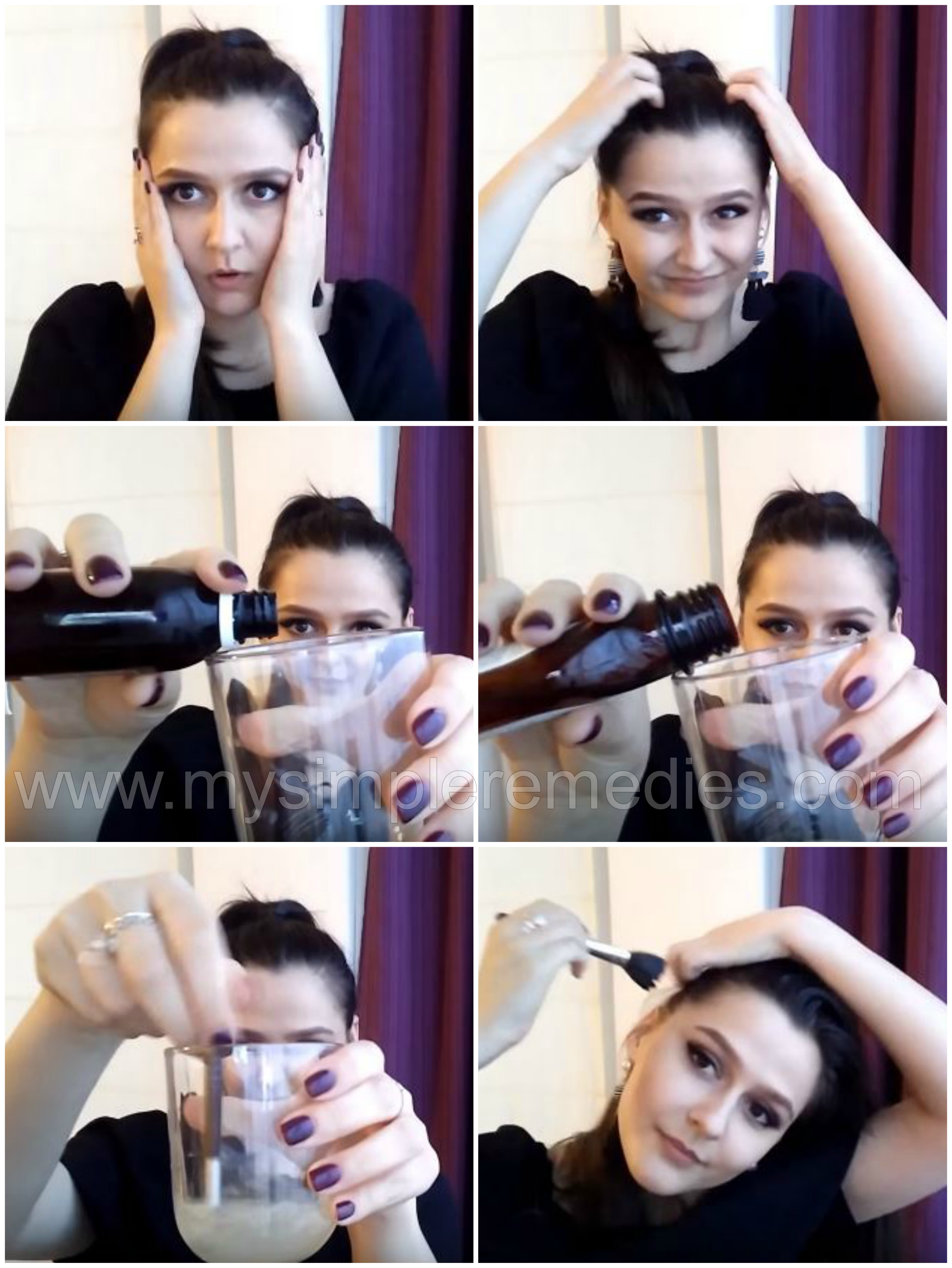 Lice infection can make your hair very itchy. Sometimes it can lead to inflammation and can cause your hair to break especially while combing. To get rid of lice easily, you'll need to prepare a hack using Avocado oil  and tea tree oil. These ingredients contain anti microbial activities and anti inflammatory properties.
How to prepare: Add two tablespoons of Avocado oil in a bowl then add 2 drops of tea tree oil. Stir the ingredients till the mix properly. Sometimes, it can be difficult to get two oils to mix well. Just allow the tea tree oil to sink in before you begin to stir
How to use: if your lice infection is severe, it is advisable for you to cut your hair low. This will make the mixture get to the scalp directly. Apply the mixture all over your scalp and leave it for 40 minutes. Then wash your hair with mild shampoo.
Storage: put the mixture in a container and use every day. Apply this hack for 14 days consistently and you'll see that your scalp and hair will be free from lice.
HACK #10 HOW TO GET STRONGER HAIR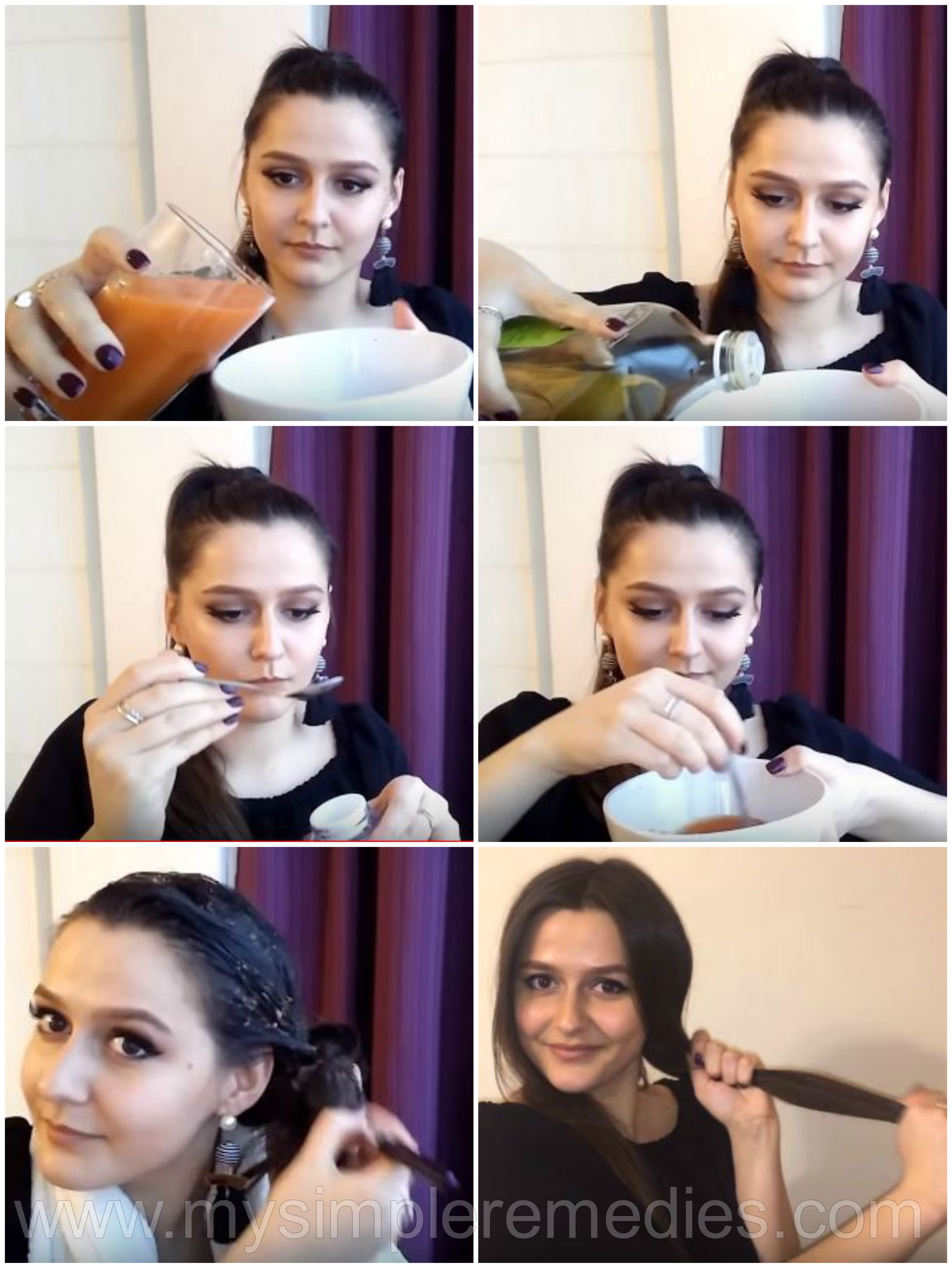 Having strong hair is good because it can withstand breakage and other hair damages. You'll need Carrot oil , Aloe Vera gel and Olive oil for this hack.
How to prepare: Add 3 tablespoons of carrot juice in a bowl. Then pour in 2 tablespoons of Olive oil and 1 tablespoon of Aloe Vera gel into the same bowl. Stir the mixture until the consistency feels smooth. Just apply a little quantity on your skin to feel if it is smooth enough.
How to use: Apply this hack all over your scalp and hair. Cover your hair with a shower cap and wait for 30 minutes. Then wash and rinse your hair.
Storage: store this hack in a container and keep in your bathroom. Use it once in 2 days to get maximum benefit.
HACK #11 HOW TO CORRECT YOUR EYE DEFECT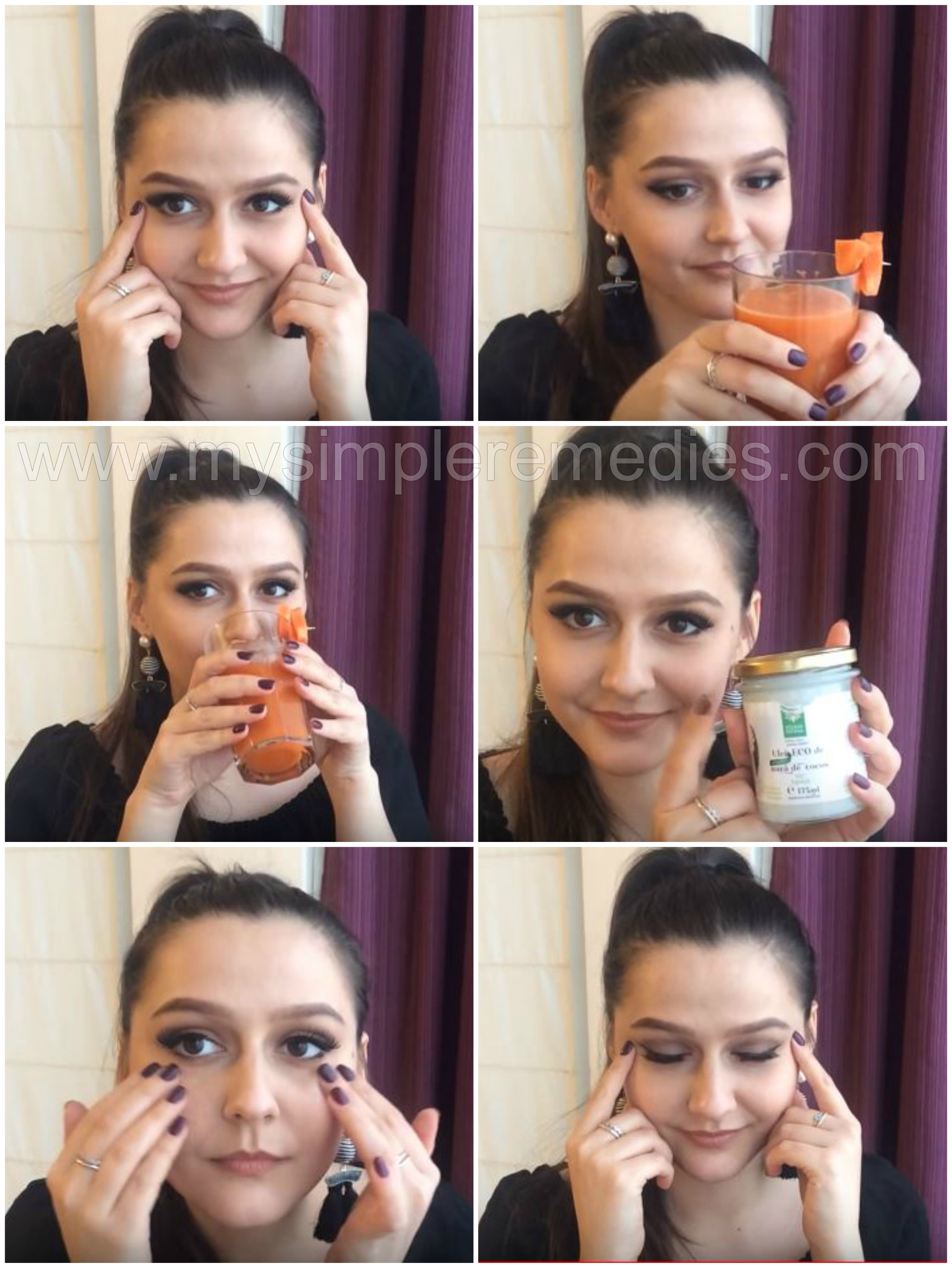 Do you  know that you can correct your eye defect without necessarily using glasses or even going to see the eye doctor? Using this hack made from Carrot juice and Coconut oil would help improve your vision.
How to prepare: Just take 2 big sized carrot and blend. Then Extract the juice and keep in a cup.
How to use: Drink the carrot juice each morning and before you go to bed at night. After drinking the carrot juice, take enough coconut oil with your palms and massage areas around your eyes. Do the massage slowly and in a circular pattern.
Storage: Prepare this hack any time you want to use it.